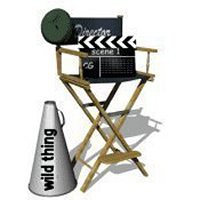 "Killer Dill" is an American film directed by Lewis D. Collins. The movie is about the Door-to-door salesman Johnny Dill, an exact double of a notorious gangster, who finds himself struck between the forces of good and evil.
Directed by Lewis D. Collins, produced by Max M. King, written by Alan Friedman (story) and John O'Dea (writer), starring Stuart Erwin as Johnny 'Killer' Dill, Anne Gwynne as Judy Parker, Frank Albertson as William T. Allen, Mike Mazurki as Little Joe, Milburn Stone as Maboose, Dorothy Granger as Millie Gardner, Anthony Warde as Louie Moroni, Dewey Robinson as McGowan (house detective), , Ben Welden as Big Nick Moroni, Julie Gibson as Joan (model), Shirley Hunter as Gloria, Lola Jensen as Other model (with Joan
Margaret Zane as Girl with Gloria) and Stanley Ross as Mushnose.