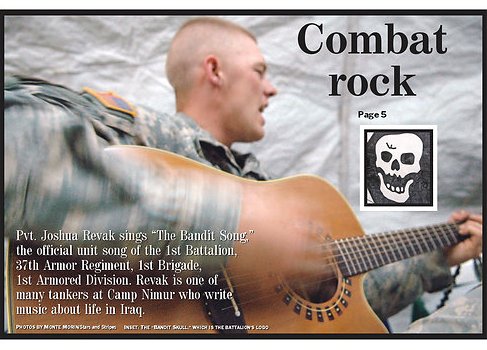 Command Sgt. Maj. Mark Schindler stands beside the "Bandit Skull," the unit crest for 1st Battalion, 37th Armor Regiment, 1st Brigade, 1st Armor Division. The grinning skull is the subject of "The Bandit Song," the unit's official rock anthem.
Stars and Stripes
Mideast Edition
by Monte Morin
SINJAR, Iraq — Maybe there's something in the clank of steel caterpillar treads or the roar of turbine engines that turn a tanker's mind to musical composition.
That might explain why the U.S. Army's most decorated tank battalion once owned rock 'n' roll star Elvis Presley and now may well be the only unit of its kind to write and record its own alternative-rock anthem.
"The Bandit Song," as it's known, is the official unit song of the 1st Battalion, 37th Armor Regiment, 1st Brigade, 1st Armored Division. It's a raucous ode to the "Bandit" battalion's distinctive death's head crest and its World War II legacy.
The lyrics describe the Bandits' banner as "just a fearsome skull and brazen ivory smile," and they promise that "If tyrants test our freedom, then the tanks that roll to meet 'em, will wear the broad black smile of the Bandit skull."
While the lines are the stuff of centuries-old battle hymns, it's the song's edgy, contemporary treatment that gets them bobbing their heads in rhythm.
"You hate to like it," said Sgt. Jonathan Thompson, 21, of Beaverton, Ore. "It's addictive."
More than just a musical novelty, the song is one of a growing body of works written and recorded by Bandit soldiers attempting to capture the pain and earthy humor of life in Iraq — their own combat rock.
Unit commanders have encouraged the musical forays, saying they help soldiers cope with stress and boost their spirits. There are even plans to build a recording studio at this Spartan base, which stands at the foot of the Sinjar Mountains in Iraq's lush northwest.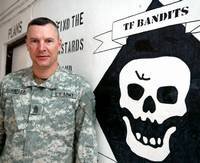 The song was originally penned by Lt. Gen. Martin E. Dempsey, who sang it at a welcome home tribute to his tank crews following their first deployment to Iraq. While Dempsey performed it as an Irish drinking song, Bandit soldiers recast it.
The tune may not win a Grammy anytime soon, but it certainly tops the charts at the Bandits' tactical operations center at Camp Nimur. The song blasts over radios before each day's battle update and kicks off all battalion functions.
"I love it," said Lt. Col. V.J. Tedesco, commander of the Friedberg, Germany-based unit. "Music is important for soldiers and for people in stressful situations in general. Most of us go to sleep listening to our iPods or CD players because it's therapeutic. … It also helps rally the unit, it gives them an identity."
The song was performed by Company C 1st Sgt. and lead guitarist Aaron Jagger, Headquarters and Headquarters Company Pvt. and lead singer Joshua Revak, and Company A Spc. and drummer Soli De La Cruz. The song's gritty quality is due, in part, to the fact that Revak practiced singing it so much that he had grown hoarse and nearly voiceless before it was recorded.
Written under extreme emotional duress, within hours or days of their friends' deaths, the songs were as much for relatives back home as they were for the grieving battalion.
"It was really hard to play at those memorials," Revak said. "Our main purpose though was to help the soldiers mourn. We wanted to help the guys who had to roll out of the gates in soft-skinned Humvees right after the memorial. I think it helped."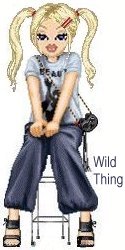 Thank you Troops!