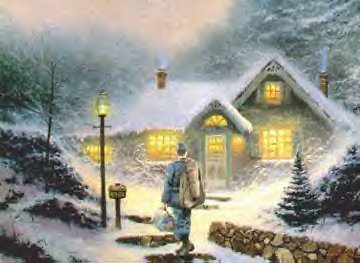 .
Christmas will be here soon and Soldiers Angels founder Patti Bader, is requesting help. I read about this over at Mudville Gazette.Soldiers Angels is a non-profit organization. As you can see on the right side of my Blog I have a logo and link to her site.
I'm not sure I could ever give the full picture – but let's just say that this is one organization that meets every need of our military members and their families:
From airplane tickets to hotel bills
clothing and furniture to diapers
holiday presents and cards
letters and carepackages
moral support and round the clock sit-by-your-side in the hospital until your family gets here support
blankets
thermals and socks to providing armored blankets for army vehicles
babysitting
food for military families with employment struggles
computers for the wounded.

That's not even the half of it! This is a powerful organization dedicated to meeting needs – no BS to get in the way.
She also has a "cool stuff designed by Patti" and you know how we girls love to shop, just give us an excuse. Well this time we can shop till we drop and at the same time show our pride in supporting our troops.
What else can you do to help Soldiers' Angels and Valour-IT?
* Donate to Both if that is possible
* In the work place, how about telling your co-workers about it. I know where I work there are several people that truly support our troops and want to help.
* Donate while also giving to your favorite Charity.
Check out Buy for Charity, which gives a percentage of your online purchases to your favorite charity. You must register at Buy for Charity just once, selecting Soldiers' Angels under the category "miscellaneous" or entering "angels" in the search box. Then when you purchase online from over 350 affiliated companies (like The Gap, Dell Computers, Overstock.com, and many military equipment sites), a portion of your purchase price is donated to Soldiers' Angels!
* I listen to a lot of Talk Radio while at work and on the way home. What about calling into one of the shows and telling them about Sodliers Angels.
Driving around I see a lot of stickers on vehicles of supporting our troops. I have them on mine too. That is great, but this is even more action taken then a sticker on a car.
This gets things done, it is walking the walk and talking the talk.
And a Merry Christmas to all and to all a safe night!