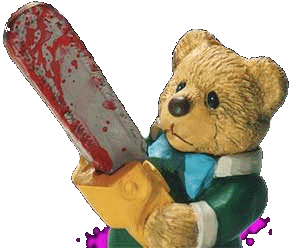 Number Two Al Qaeda terrorist is taken down by a bullet.
Yahoo! News
Man said to be Zarqawi's No. 2 killed
By Luke Baker
U.S. and Iraqi forces have shot dead the second-in-command of al Qaeda in Iraq, dealing what a U.S. commander called on Tuesday a serious blow to the militant group at the heart of Iraq's insurgency.
U.S. and Iraqi forces tracked Abu Azzam, said to be the right-hand man of Abu Musab al-Zarqawi, the most wanted man in Iraq, to a high-rise Baghdad apartment building where he was shot on Sunday, U.S. spokesman Lt. Col. Steve Boylan said.
"We got specific information and intelligence that led us to him," Boylan said. "We've been tracking him for a while."
The death suggested progress against the two-year-old insurgency, particularly as the military said Azzam was behind a surge in violence in Baghdad since April that has killed and maimed hundreds. But attacks continued unabated.
In the latest act of violence, a suicide bomber blew himself up among a crowd of Iraqi police recruits north of Baghdad, killing at least 10, police said — another in a series of such bombings in past days.
It is also uncertain how much intelligence Azzam's killing will deliver as he died before being questioned. U.S. and Iraqi forces tried to capture him alive but he shot at them, a statement said, and when troops returned fire, he was killed.
An Iraqi government spokesman said he was with other men at the time but it was not clear what happened to the others.
Azzam, believed to be Palestinian, commanded day-to-day operations in Baghdad and other cities, while financing attacks and the passage of militants into Iraq from abroad.
"In spring 2005, he assumed the position of Emir of Baghdad, where he reportedly directed and controlled all terrorist activity and operations in and around the city," the U.S. military said in its statement.
His death follows the capture or killing of several Zarqawi associates in recent months, including a driver and several junior commanders, that have led U.S. forces to believe they may be closing in on the guerrilla chief himself.
However, the U.S. military has moved in on Zarqawi in the past, only to see him slip away and attacks persist. A bounty of $25 million has been offered for his death or capture. He is thought to be hiding out in the Euphrates valley of west Iraq.
A Jordanian, Zarqawi is allied to Osama bin Laden and his al Qaeda network. His group has claimed many of the deadliest attacks in Iraq, and has pledged all-out war against Iraq's majority Shi'ite population, an effort to provoke civil war and drive the country further into chaos.
STEP UP IN VIOLENCE
The U.S. military was quick to hail the breakthrough.
"We continue to decimate the leadership of the al Qaeda in Iraq terrorist network and continue to disrupt their operations," said Major General Rick Lynch, chief spokesman for U.S. forces.
"By taking Abu Azzam off the street, another close associate of Zarqawi, we have dealt another serious blow to Zarqawi's terrorist organization."
But officials have warned of more violence in the run-up to a referendum on a new constitution on October 15, when voters are expected to say "Yes" to a document drawn up by the Shi'ite- and Kurdish-led government over Sunni Arab objections. The Sunni Arab minority forms the bulk of the insurgency.
In Baquba, 65 kms (40 miles) north of Baghdad, a suicide bomber strapped with explosives mingled among a crowd of hundreds of police recruits in the center of town and blew himself up, killing at least 10 and wounding 26.
Police said the death toll was expected to rise.
The bomber approached the police station on foot, dressed in black and making no attempt to conceal his suicide vest, Specialist Jeff Young of the U.S. military told Reuters.
Young, speaking from the U.S.-Iraqi Joint Coordination Center in Diyala province, said the police station normally recruited trainees twice a month. The recruits usually formed a long queue on a busy road in the town.
Iraqi police and army recruits are a frequent target of guerrillas determined to destroy U.S. and Iraqi government attempts to build up security forces to tackle the insurgency.
In other attacks elsewhere, gunmen in Baghdad fired on a convoy of Iraqi police vehicles taking detainees to Abu Ghraib prison, killing two and wounding 12, among them police and detainees, the Interior Ministry said.
Violence has increased in the run-up to the constitution referendum, which threatens to divide the country along sectarian lines. Sunni Arabs strongly oppose to many elements in the document, but Shi'ites and Kurds support it.
Tension is running high since the referendum falls four days before Saddam is due to be tried for crimes against humanity in connection with the death of about 150 Shi'ite men following an assassination attempt in 1982.
Wild Thing's Response….
Job well done! If I could have it my way we would NOT take ANY prisoners! No, not one!
My vote would be to take that money we use to feed, put a roof over their sick heads, clothes on the ugly backs of the terrorists and give it to our troops, their families and our Veterans!
The terrorists do not deserve to LIVE not even for one tiny second! They worship death, so I say let's help them obtain what they worship sooo desperately!
KILL them ALL! A dead terrorist is unable to do any more damage. And don't give me that crap about how we would make them "martyrs"! I would rather have them DEAD under any circumstances! And there is NO way they would be true martyrs! And everybody say A-Men!