Wild Thing Days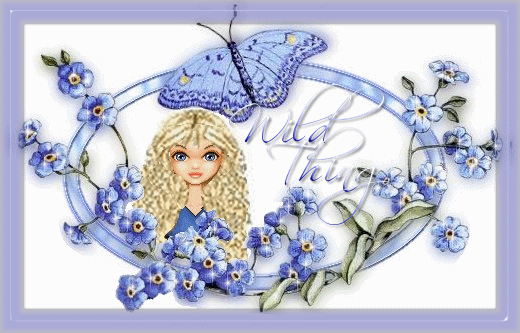 "We cannot put off living until we are ready.
The most salient characteristic of life is its coerciveness;
it's always urgent, "here and now,"
without any possible postponement.
Life is fired at us point blank." -- Ortega y Gasset

If you walked into our home you would see books,
Teddy Bears, hear music playing, smells of cookies
and home baked bread baking in the kitchen and
sometimes coloring books and crayons with me
making sure I stayed in the lines.

I plan on getting older but never ever growing up!
I truly believe there is a fountain of youth.
It is your mind, your talents, the creativity you
bring in your life and the lives of people you love.

I believe in goodness wining out over evil, I avoid jealous
people like the plague, and I care more about what is in a
persons heart and soul then if they have the latest style on.

I believe in God and that Jesus dyed on the cross for my sins.
My belief in God is personal, between He and I. My faith is deep
and I would never turn my back on my beliefs.

There is not a single day that goes by I do not think about
our military and appreciate what they have given to me in
my Freedom, Liberty and Peace.

I am blessed with true and wonderful friends,
a fantastic and loving husband and good health.
Precious pets that are our children

.

The knowledge that, Life IS worth living, filled with
laughter and good meaningful times. That our
Freedom is paid for with a high price Ö.
which I can never repay

.

My being is ruled by passion and there are no gray areas.
Some may call it being opinionated but it is more then that.
It is knowing in my soul what I believe in, and yet not
expecting others to feel the same wayÖ.
so no my passion does not rule.

My fire, this passion burns with all I am.



Butterflies are so special to watch. I love them.

My husband and I. He is my Hero!
My favorite sports are Football, Baseball and Hockey.
This is from an ad I got to do for North Beach Leather
This is one of the Magazine coverís I was so
excited to be able to do. I could not believe
they picked me. My Father loved this one
the best.
Sheriff Lobo TV show
On location filming " For the Love of It",
starring Adam West.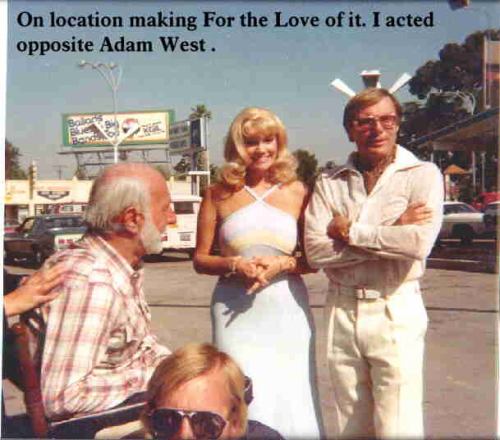 With Norman Feld and Tom Bosley
They were very kind to me.
Jack Klugman and I at the " Artist and Modelís Ball"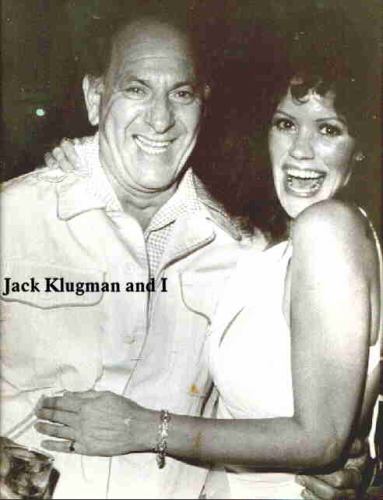 One photo is with the director,
the others are with Kevin Dobson
and Asher on Mickey Spillane Mike
Hammer ,"Margin for Murder",
TV movie of the week.
This is James Beacon, he is a wonderful columnist
for things going on in Hollywood. His column
shown in hundreds of papers across the great USA
He has also written several books that are a great read
the kind you just canít put down.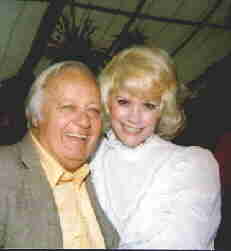 Columnist James Bacon, myself and
Jerry Buss owner of the Lakers basketball
team.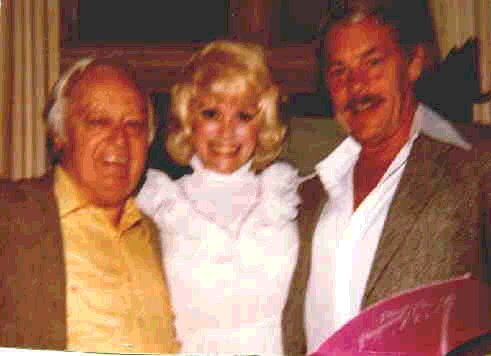 This is Anthony James, we were in the film called "Wacko"
Also starring Joe Don Baker, Stella Stevens, and George Kennedy
Hugh Hefner has always been very kind to me.
It was always fun to go to the Movie nights,
The parties and laying out by the pool at his
Playboy Mansion in Los Angeles.
This is a photo of one of the Pajama Parties.
Hef and I at Playmate Luncheon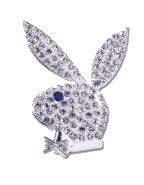 Being interviewed by Regis Philbin
at the Playboy Mansion. I am showing
Regis my dress he asked about.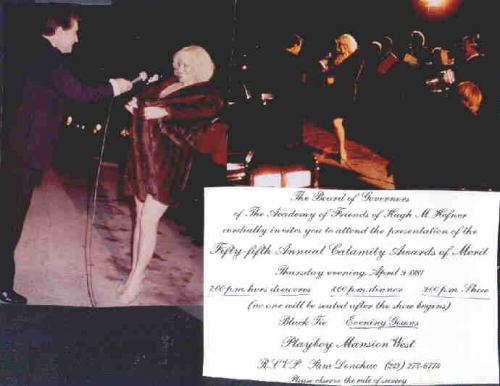 On stage with Robert Culp and June Wilkerson
Rehearsals for Paris revue at Playboy Mansion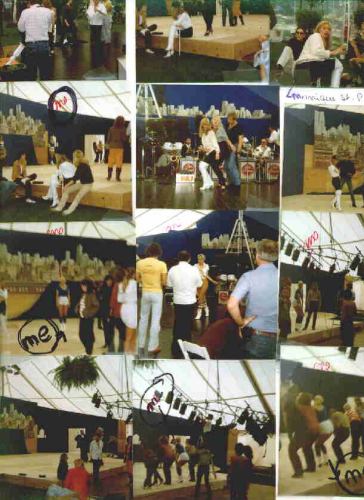 Getting dressed and ready for the big show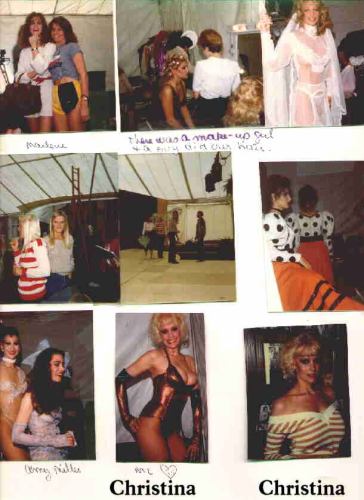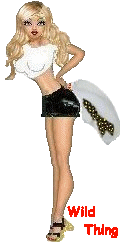 Hef and I before I moved with my wonderful
husband to where we live now.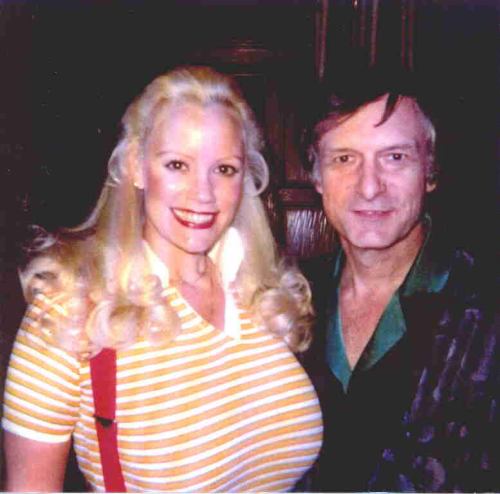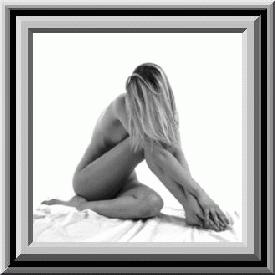 Modeling job in Europe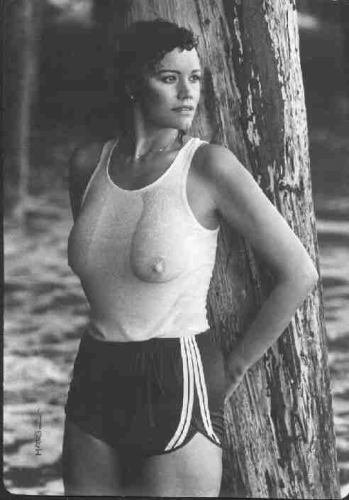 Modeling work for Playboy Modeling Agency , beach in Santa Monica, California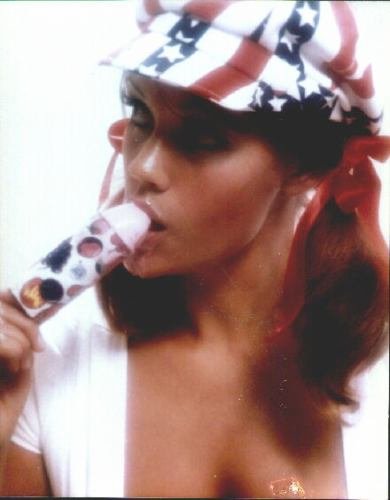 This was an ad for a Yogart brand Pushups
for their marketing presentation.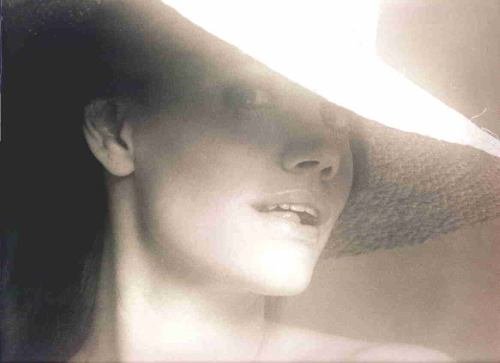 I was fortunate to get a lot of work. Here in America and
in Europe. No awards but a life of fun and challenging jobs.
Music is a way of _expression for my soul.
I have been known to play the piano into the wee small
hours of the morning, way past when the fireplace
has lots it embers.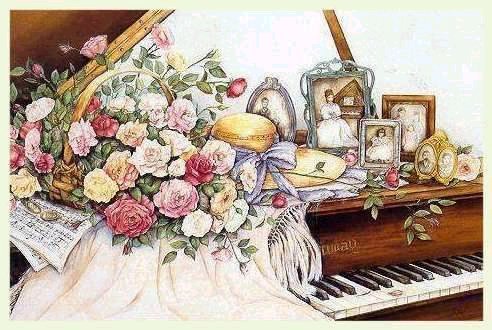 Click on Piano image if you would like to listen
A few years after I stopped my acting and modeling
career. I opened a gift shop and tea room.
As the sole owner I created it , did all the
marketing of the shop to get it known in
my community. I also loved the opportunity
of doing all the advertising layouts. All the
products were bought from long hours into
the nights ordering from the many catalogues
and then did all the displays of the
merchandise in the shop.


Parties were held in the tea room to
help market the business. It was something
I had never done before but step by step it
seemed to come naturally with each new
challenge I was presented with.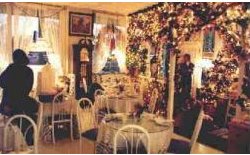 It became the gathering place for the
local City counsel for lunches and the
Mayor of the City to meet for a tasty
lunch in a quiet upscale atmosphere.
There was dining indoors and outside on
the patio, lace table clothes, fine bone china
and fresh flowers on each table.


If one wished there were two bears sitting
together at one of the tables that were
available to join a someone eating alone, or
children having tea with their friends.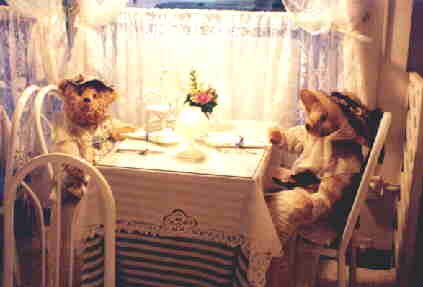 It was a magical place filled with
whimsy and enchantment.
After I closed the shop and tea room
to move to another city the sweetness of
my customers was so touching as they
came in to tell me and share with me from
their hearts how much my creation had meant
to them over the years. This meant more to me
then any amount of money that was made in the
four years of my shop and tea room existence.
The memories I will cherish always.



Thank you for visiting my website.
Just click on the dog tags to go back to my Menu Page
Click on Welcome Page to go to the very beginning of my website
Also I made a tribute to my wonderful Vietnam Veterans and the
trips to Vietnam when I met them. Just click on Vietnam to go there..