By the end of September a Russian Cosmos 3 missile will be launched from the Plesetsk Cosmodrome 800 km north of Moscow, carrying two Iranian satellites into orbit. Although the satellites are claimed to be for meteorological and experimental purposes, experts believe that one of them will possess surveillance capabilities allowing it to observe American and Israeli military facilities throughout the Middle East. More importantly, experts believe that the Iranian space program serves as a cover for developing more advanced long-range missiles capable of carrying nuclear warheads.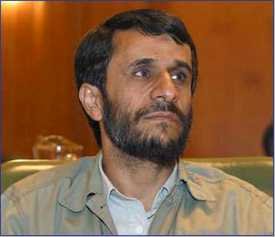 Iranian President-Elect Mahmoud Ahmadinejad (Ahmadi-Nejad)
Iranian President Elect:
"I Can Control the Americans –
I Have Experience Doing It"
Iranian President-Elect Boasts of Role in 1979 Embassy Take-over Found in Farsi Language Documents
Mahmoud Ahmadinejad is a dangerous man. I would never trust him, nor believe any promises he makes to the USA….NO, not ever! To allow Iran to have two Iranian satellites………….is bad news and should be stopped if possible.