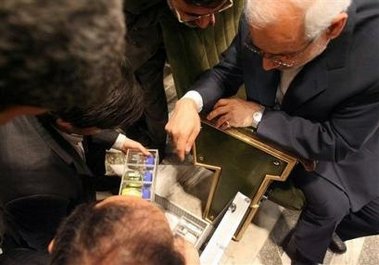 Vice President Gholamreza Aghazadeh, Iran's nuclear chief, right, examines uranium hexaflouride, or UF6 as he and others open a suitcase in Mashhad, Iran's holiest city, Tuesday, April, 11, 2006. Iran has successfully enriched uranium for the first time, a landmark in its quest to develop nuclear fuel, hard-line President Mahmoud Ahmadinejad said Tuesday, although he insisted his country does not aim to develop atomic weapons. (AP Photo/Mehr News Agency)
Ahamad Alavi, head of the Astan Qods Razavi museum, holds a sample of enriched uranium during a ceremony to mark Iran's successful production of enriched uranium in Mashad, 924 km (574 miles) east of Tehran April 11, 2006.
TEHRAN, Iran
– Former Iranian President Hashemi Rafsanjani said Tuesday that Iran has enriched uranium using 164 centrifuges, a major development in nuclear fuel cycle technology, news agencies reported.
Rafsanjani made the comment to the Kuwait News Agency during an interview in Tehran.
"Iran has put into operation the first unit of 164 centrifuges, has injected (uranium gas) and reached industrial production," the Kuwait News Agency quoted Rafsanjani as saying.
Iranian authorities had promised to announce "good nuclear news" on Tuesday.
Article HERE
The announcement from President Mahmoud Ahmadinejad was certain to heighten international tensions surrounding Iran's nuclear program. The U.N. Security Council has demanded that Iran stop all enrichment by April 28 because of suspicions the program is designed to make nuclear weapons.
Ahmadinejad warned the West that trying to force it to abandon uranium enrichment would "cause an everlasting hatred in the hearts of Iranians."
The White House, which is pressing for U.N. sanctions against Iran, said the enrichment claims "show that Iran is moving in the wrong direction."
"Defiant statements and actions only further isolate the regime from the rest of the world," said White House spokesman Scott McClellan.
Uranium enrichment can produce either fuel for a nuclear energy reactor — as Iran says it seeks — or the material needed for an atomic warhead.
Ahmadinejad announced it at a nationally televised ceremony clearly aimed at drumming up popular Iranian support for the nuclear program. He addressed an audience that included top military commanders and clerics in an ornate hall in one of Iran's holiest cities, Mashhad. Before he spoke, screens on the stage showed footage of nuclear facilities and scientists at work.
"At this historic moment, with the blessings of God Almighty and the efforts made by our scientists, I declare here that the laboratory-scale nuclear fuel cycle has been completed and young scientists produced enriched uranium needed to the degree for nuclear power plants Sunday," Ahmadinejad said.
"I formally declare that Iran has joined the club of nuclear countries," he said. The crowd broke into cheers of "Allahu akbar," or "God is great."
Jerusalem (CNSNews.com) – Israel warned the international community on Tuesday not to delay in dealing with Iran after the Islamic republic announced that it had enriched uranium for the first time. The U.S. said Iran was moving in the "wrong direction."
Israel said the announcements on Tuesday should prove the "true nature" of the Iranian program and spark concerns about the timeline.
" Iran's announcement serves as a further example of the real danger in delaying concrete diplomatic measures in the face of the continuing Iranian refusal to comply with international demands to stop its nuclear activities," said Foreign Ministry spokesman Mark Regev.
"Israel believes that the Iranian nuclear program should be confronted by a broad and determined international coalition," Regev said.