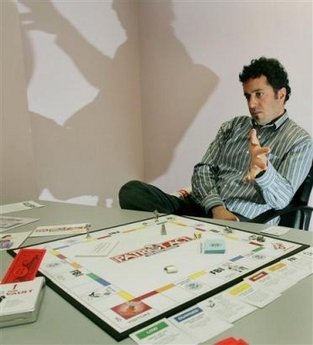 New Jersey graphic artist and
Arab civil rights advocate
, Michael Kabbash, speaks about his newly designed board game the Patriot Act. Seen above at his office in Hamilton, N.J. A parody of the Monopoly game, The Patriot Act pokes fun at the historic abuse of governmental powers by the recently-renewed anti-terrorism law. (AP Photo/Jose F. Moreno)
In this send-up of "Monopoly," players don't pass "Go" and they don't go directly to jail — they go to Guantanamo Bay.
Instead of losing cash for landing on certain squares, they lose civil liberties. And the "Mr. Monopoly" character at the center of the board is replaced by a scowling former Attorney General John Ashcroft.
Patriot Act: The Home Version" pokes fun at "the historic abuse of governmental powers" by the recently renewed anti-terrorism law.
But while it may be fun, creator Michael Kabbash, a graphic artist and Arab civil rights advocate, is serious about how he feels the law has curtailed Americans' freedom.
The object of the game is not to amass the most money or real estate, but to be the last player to retain civil liberties.
"I've had people complain to me that when they play, nobody wins. They say `We're all in Guantanamo and nobody has any civil liberties left,'" he said. "I'm like `Yeah, that's the point.'"
Kabbash decided to keep Ashcroft as the visual focus of the game, even though he stepped down in January 2005, because "he really is the icon that people associate with the Patriot Act."
prewar comments, the "Go" space in is renamed "Bring It On!" Players roll the dice to determine how many civil liberties they start out with, accumulating them from a variety of categories: U.S. citizens get 5; non-citizens 1. Whites and Asians get 5; Arabs 1. Ultra right-wingers get 6; Democrats 3 or 4.
Instead of landing on, say Oriental Avenue, players land on a color-coded spaces corresponding to the national terror alert. A player who lands on a red space loses one civil liberty, as does anyone else within five spaces. A player who lands on an orange space gets to designate another player to lose one civil liberty.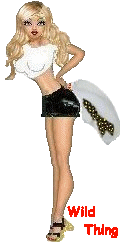 Wild Thing's comment
…..
More of the article about this ant-American game
HERE
Amazing isn't it, they live in this country, enjoy the freedom we have and then do shit like this.