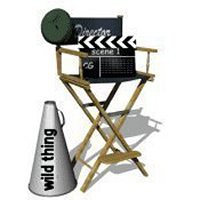 Lady Gangster is a Film Noir movie directed by Robert Florey, credited as "Florian Roberts". It is based on the play "Gangstress", or "Women in Prison" by Dorothy Mackaye, who had spent ten months of a one-to-three-years sentence in San Quentin State Prison. "Lady Gangster" is a remake of the pre-Code film "Ladies They Talk About" (1933). Jackie Gleason plays a supporting role.
The movie is about Dorothy "Dot" Burton (Faye Emerson), who is a member of a gang of bank robbers. Using her femininity and a cute dog provided her by her male cohorts who dognapped him, she is able to enter a bank before opening time, leaving the door open and the bank guard holding her dog, thus enabling a successful robbery. When police interfere with the getaway she faints and proclaims her innocence, however the police have strong doubts as "her" dog won't come to her and has a different name on his collar than what she calls him. After she confesses to her part in the robbery, she is sent to women's prison where she makes enemies of fellow inmates seeking Dot's share of the money.
Directed by Robert Florey, produced by William Jacobs , screenplay by Anthony Coldeway, based on "Women in Prison 1932 play
by Dorothy Mackaye, starring Faye Emerson as Dorothy Drew Burton, Julie Bishop as Myrtle Reed, Frank Wilcox as Kenneth Phillips, Roland Drew as Carey Wells, Jackie Gleason as Wilson, Ruth Ford as Lucy Fenton, Virginia Brissac as Mrs. Stoner, Dorothy Vaughan as Matron Jenkins, Dorothy Adams as Deaf Annie, William Hopper as John, Vera Lewis as Ma Silsby, Herbert Rawlinson as Lewis Sinton, Charles C. Wilson as Detective, Frank Mayo as Walker, Leah Baird as Matron, Jack Mower as Police Sergeant.