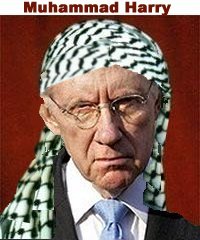 THE WASHINGTON TIMES
Senate Minority Leader Harry Reid called a proposal to make English the official language "racist" on the Senate floor yesterday.
"This amendment is racist. I think it's directed basically to people who speak Spanish," the Democrat said during the already tense debate over immigration reform.
Moments later, the Senate approved the measure on a 63-34 vote. Virtually all Republicans were joined by 11 Democrats to approve the largely symbolic amendment. Immediately following that vote, the Senate approved a second amendment, declaring on a 58-39 vote that English is the "common and unifying language."
Such proposals enjoy overwhelming support among American voters.
A poll by Zogby International earlier this year found that 84 percent of Americans say English should be the official language of government operations. The same poll found that 77 percent of Hispanics agree.
And it's a bipartisan issue, according to the poll, which found that 92 percent of Republicans and 82 percent of Democrats approve making English the country's official language.
Mr. Reid's charge of racism caused a stir of whispers in the Senate chamber and gallery, and Sen. James M. Inhofe, the Oklahoma Republican who offered the amendment, was clearly offended.
As Mr. Reid continued his floor speech, an aide passed him a note on a folded sheet of yellow legal paper. After reading the note, the Nevada Democrat tried to clarify his remarks.
"Even though I feel this amendment is unfair, I don't in any way suggest that Jim Inhofe is a racist," Mr. Reid said. "I don't believe that at all. I just believe that this amendment has, to some people, that connotation — not that he's a racist, but that the amendment is."
It's certainly not the first time that Mr. Reid has used stark language in the debate over immigration.
"Our federal wallet is stretched to the limit by illegal aliens getting welfare, food stamps, medical care and other benefits without paying taxes," he said in 1993. "These programs were not meant to entice freeloaders and scam artists from around the world."
Earlier this year, Mr. Reid confessed on the Senate floor that his anti-immigrant fervor "mostly lasted about a week or two" before his wife brought him around to the more open position he holds today.
But nearly a year after his "freeloaders" statement, Mr. Reid was on the Senate floor criticizing immigrants again and worrying about their cultural impact.
"We must reduce the annual admissions of legal immigrants to more moderate levels in order to provide for a better country — both environmentally and socially — in the years to come," Mr. Reid said, according to a June 16, 1994, report by States News Service.
When Mr. Inhofe took to the floor yesterday, he didn't address Mr. Reid over his charge of racism but did defend his proposal.
"I think it's an insult to Hispanics to say that we are not going to have English as the national language because you're not capable of operating and speaking and succeeding in a country like this," he said.
.

Wild Thing's comment……
Gee, imagine that. Wanting to make English the official language of an English speaking nation. What are these guys thinking? By default, dungy Harry is calling English speaking people racist. Almost every country on the earth except us has an official language. It is not racist to have an official language. Is China racist to impose Mandarin Chinese as its official language, Franch has French as their official language as well.
It's the language our Constitution was written in. Oh and it's the language the Atomic Bomb was invented in too.
If Harry Reid gets his way we will have:
Press #1 for English
Press #2 for Spanish
Press #3 for Farsi