A model presents a creation as part of British designer Vivienne Westwood Fall/Winter 2006-2007 ready-to-wear women's collection during the Paris fashion Week (REUTERS/Charles Platiau)
.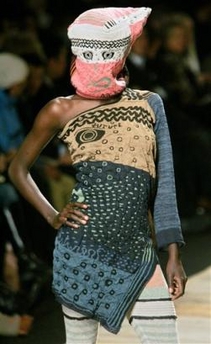 .
PARIS (Reuters)
British fashion designer Vivienne Westwood brought it all to Paris fashion show.
Westwood, who is famed for using British fabrics such as tweed and tartan for her daring clothes, has not been shy to add a political touch to her clothes. Last year, she presented tops reading "I'm not a terrorist. Please don't arrest me" to protest against a tightening of anti-terrorism measures.
Wearing two sparkling little devil's horns in her bright red hair, Westwood told reporters she wanted to raise attention to the case of Leonard Peltier, a American Indian activist convicted for the 1975 killings of two FBI agents.
"Leonard Peltier is innocent. He's been in jail for 30 years now," Westwood said, pointing to the invitation letter for her show, featuring a blue penis with wings and the word "Innocent."
.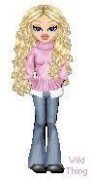 Wild Thing's comment…..
Every single time I think I wil not get shocked again I do. Westwood is obviously a nut job but it goes beyond that. Westwood is PRO terrorists and that I take offense with to the max.