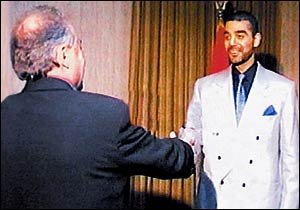 George with Saddam Hussein's son, Uday
Video footage has emerged showing George Galloway shaking hands with Saddam Hussein's son Uday – a rapist, torturer and convicted murderer.
The video, obtained by The Sun, shows the Respect MP having a 20-minute meeting with Saddam's eldest son in an Iraqi palace in 1999.
In the video, Mr Galloway is seen to greet Uday, shaking his hand twice and calling him "Excellency".
He jokes about losing weight, going bald and failing to give up smoking cigars.
Mr Galloway also orders watching journalists not to publish parts of their conversation.
Finally, according to the paper, he taunts the United States and vows to stick with Uday "until the end".
The video was shot for an Iraqi TV station and was smuggled out of Iraq before the regime fell.
Uday beat and stabbed to death his father's personal valet and food taster, Kemal Hana Gegeo, and was briefly imprisoned by Saddam.
He also raped numerous women, and his victims are believed to have included a visiting Russian ballerina.
And as head of the Iraqi Olympic Committee, he oversaw the imprisonment and torture of Iraqi athletes who were deemed not to have performed to expectations.
Uday was shot dead by US soldiers in 2003. He was 39.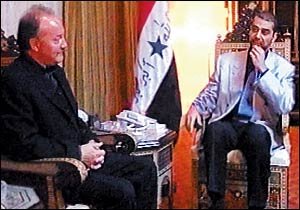 Galloway and Uday on Iraqi TV
Uday, dubbed The Wolf by terrified Iraqis, is known to have killed thousands of people.
He began watching Saddam's torturers at work at the age of four.
Depraved Uday enjoyed it so much he later had his own private torture chamber, where he toyed with screaming victims.
He was a mass rapist who set dogs on a 24-year-old woman who rejected his advances — then watched as she was ripped apart.
Footballers and athletes who failed to impress Uday faced death, torture or beatings when he ran both sports in Iraq.
Two sportsmen were thrown to their deaths from a 75ft bridge.
And a coffin-shaped "iron maiden" with spikes that impaled anyone in it was found near the Iraqi soccer HQ by allied troops.
Galloway met Uday in 1999 at the end of a two-month journey on a double decker bus through a number of Arab nations.
The tour was to highlight his Mariam Appeal, a cause to raise cash for a sick Iraqi girl.
A US senate report claims the charity received £300,000 in oil money from Saddam — which Galloway denies.
The meeting was shot for an Iraqi TV station run by Uday and was smuggled out of the country after the regime fell.
Galloway, his greying hair coiffed and wearing a dark suit, and tie, is shown being led into a room with his now-estranged Palestinian wife Dr Amineh Abu-Zayyad and business partner Fawas Zureikat.
The trio are warmly welcomed by Uday, who wears a badly fitting, shiny powder blue double- breasted jacket and dark trousers.
Galloway, showing he has met Uday at least once before, reaches out to shake his hand, saying: "Your Excellency, very, very nice to see you again."
Uday replies in English: "Nice to see you." Galloway goes on: "It's almost one year since we met. How are you?" Uday replies: "You seem in very good health."
Galloway says: "I lost weight, I'm very happy about that."
Uday replies in Arabic through a bespectacled, gap-toothed translator: "Yes, I see you've lost some weight, so I think it's better."
Galloway, as if to an old friend, laughs: "It's good, but unfortunately I'm losing my hair also."
Uday chuckles: "Yes, I've noticed, especially on the left side. But I'm one step ahead of you, I've quit cigars, you are still smoking."
In the stomach-churning manner familiar to Big Brother viewers, Galloway flatteringly replies: "People of good taste either used to to be, or still are, smokers of Havanas."
Uday responds to the ego massage, saying: "That's why we have opened this subject so we can call you to quit smoking." Whenever Uday speaks, Galloway looks at him attentively and hangs on his every word.
And the politician, who campaigned against the war to overthrow Saddam tells Uday: "I'd like you to know that we are with you 'til the end."
Describing his recent tour, Galloway mentions several Arab countries. But when he starts speaking about Libya he turns and says: Please don't publish this . . . if there are journalists . . . "
The tape then cuts out. When it resumes, Galloway is talking about Egypt.
He boasts: "If we had stayed in Egypt one more week there might have been a revolution. There were tens of thousands of people in the street around the bus. And our bus was parked at night just next to the American Embassy."
Galloway explains that the bus had "No Embargo On Iraq" emblazoned across it.
He goes on: "They had to look at our bus every day. It was making a few people nervous."