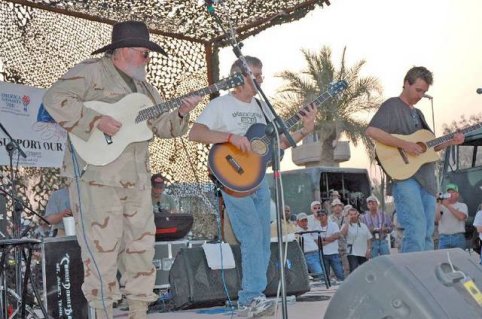 Musician Charlie Daniels Mission To Help Iraq Troops Takes Off
11/23/2005 9:30:13 AM
A morale-boosting project for troops in Iraq has reached a crescendo of giving.
When singer Charlie Daniels learned that soldiers lacked guitars for church services, he sent one of his own. He followed that by asking guitar manufacturers to follow his example.
The Mount Juliet (Tennessee) resident says only one company that he refuses to name turned down his request. Otherwise, he says the response has been more generous than he would have thought.
Nashville-based Gibson Guitar, one of the nation's top instrument makers, surprised Daniels by offering 100 guitars worth 35-thousand dollars, and thousands of dollars worth of accessories. Other companies have followed Gibson's example, donating hundreds more electric and acoustic guitars, as well as dozens of keyboards, drum kits, microphones and amplifiers. Contributions to the effort called "Operation Heartstrings" have included laptop computers and thousands of D-V-Ds and C-Ds.
Wild Thing Comment………….
Isn't is fabulous to see Charlie Daniels and the things, thw many things he does for our Troops and always has. He has never wavered in it either.