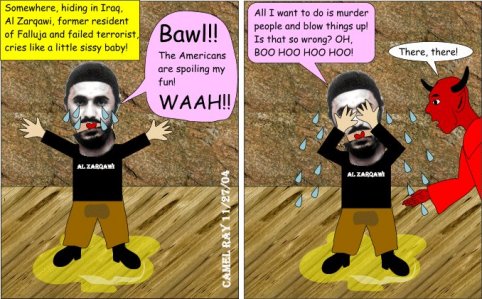 Al-Zarqawi May Be Among Dead in Iraq Fight
BAGHDAD, Iraq – U.S. forces sealed off a house in the northern city of Mosul where eight suspected al-Qaida members died in a gunfight — some by their own hand to avoid capture. A U.S. official said Sunday that efforts were under way to determine if terror leader Abu Musab al-Zarqawi was among the dead. …
In Washington, a U.S. official said the identities of the terror suspects killed was unknown. Asked if they could include al-Zarqawi, the official replied: "There are efforts under way to determine if he was killed." ……
American soldiers maintained control of the site, imposing extraordinary security measures, a day after a fierce gunbattle that broke out when Iraqi police and U.S. soldiers surrounded a house after reports that al-Qaida in Iraq members were inside.
Three insurgents detonated explosives and killed themselves to avoid capture, Iraqi officials said. Eleven Americans were wounded, the U.S. military said.
Wild Thing comment…….
Well if he isn't dead I hope he will be soon. No taking him prisoner just K-Pow and dead!



Thank you Linda for makng this animated doll for me.