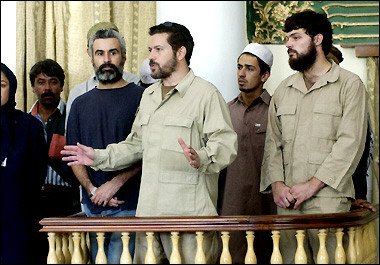 These three Americans have been to hell. But we can help them back. It's time to turn the heat up under the comfy chairs of the armchair quarterbacks who got them into this mess.
Jack Idema, Brent Bennett and Eddie Caraballo were declared innocent of the trumped up charges against them in court in Afghanistan in March of 2005. They should be released. The American government is now standing in the way of their freedom, and this is a travesty of justice.
All three Americans are now languishing at the infamous Pulacharke prison. But they are still alive, no thanks to the American government or the FBI.
Peter Bergen, the author of Holy War, Inc. and "Shadow Warrior" at Rolling Stone Magazine said in his interview at NPR:
Pulacharke prison where he and his two colleagues are, Brent Bennett and Ed Caraballo, is–you wouldn't wish this on your worst enemy. I spent 5 days there, that was plenty. It's the equivalent of the Leavenworth of Afghanistan, it's–a lot of Taliban, members of Al Qaeda are in there. In fact, there was a prison riot in December where 4 of the Al Qaeda-linked prisoners tried to kill the American prisoners and ended up killing 4 prison guards. So it's a dangerous place, it's an unpleasant place, they are serving some pretty hard time there.
Hard time is right…this is why we need to get them the hell OUT OF THERE. Below is a portion of a statement from the SuperPatriots at the website, but I want you to bear in mind that there is no excuse for leaving these guys there even though they're trying to maintain a "stiff upper lip". These men were declared innocent of the charges by the Afghan Supreme Court in a second closed-door session between January and March of 2005, they should be released.

We are living pretty well now, all things considered. It is one of the most infamous prisons in the world, where more than 20,000 people were executed by the Russians, and God knows how many by the Taliban. But the fact is, that our friends here, the officers that know what really went down in our case, treat us pretty darn good. Sure, there are lots of things we don't have, and lots of things we wish we had, but all in all, we turned the tables on our enemies, and did it with no small help from our Northern Alliance friends, the men who were loyal to America against al-Qaida and the Taliban, and remain loyal to America and us.
Back at the FBI-NDS Saderat facility that is used to "legally" torture anyone and everyone they choose to, we were not allowed any contact with each other, family, friends, or the outside world. We were tortured, beaten unmercifully, chained, burned, some of us electrocuted for days, and starved with just two cups of rice and a piece of bread each day. Now, at Pulacharke Prison, they place few restrictions on us and help us as best they can.
It is surrounded by mountains and deserts and multiple walls. In the past 100,000 prisoners were housed here. It is not a place you want to be. But for us, we have little to complain about; the officers here treat us well. Pulacharke is called impenetrable, but as they teach you in Special Forces SERE School, nothing really is.
Sorry for the ranting and raving, but you know how things get when you're in the world's most infamous prison surrounded by 500 al-Qaida terrorists trying to kill you 24 hours a day. Actually, you probably don't. Well, try to imagine.
Courage Forward,
TASK FORCE SABER/7
Here are the facts. Al-Qaeda tried to kill Jack and the others on December 17, 2004 in what some (like Peter Bergen) are categorizing as a "prison riot". In the process, two Iraqis, one Arab, and one Pakistani terrorist were killed. Another Arab terrorist, who was critically wounded, survived. Four Afghan military officers were killed defending the SuperPatriots. Two of them were very close friends of Jack and his men, including Colonel Sherzaman, who ran into the middle of the terrorists with just one magazine of bullets. The Colonel killed two and wounded one. The remaining terrorists critically wounded the Colonel, and then executed him twenty yards from the SuperPatriots. Northern Alliance Generals quickly came to Jack's aid and rescued the unarmed Americans as they held off 300 terrorists with barricades.
This "prison riot" was orchestrated by members of Al Qaeda to kill the Americans at Pulacharke prison.
This is the beginning of the Free Jack campaign.
To join the campaign, email Cao from Cao's Blog and tell her you want to join the Free Jack Idema blogburst.
We will be blogging on this every Wednesday until he and his team are released, and when they are, we'll be blogging about a congressional hearing.
I will maintain an email list, and will email you the post of the week along with a picture (if there is one for that week) to host at your blog.
Join the fight. No American should ever have to worry about ending up in this predicament ever again. But first, we must make sure they get home safely and in one piece.