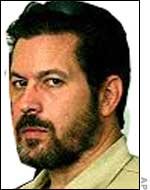 He is the soldier, who more than a decade ago first warned the Pentagon about the Russian Mafia selling suitcase nuclear bombs to terrorist supporting nations. Suitcase nuke proliferation is reportedly much worse since Idema first told the Pentagon what he learned from the Lithuanian KGB about the illicit traffic. That story by the way, won major awards when reported by CBS "60 Minutes", though CBS chose not to credit their major source – Jonathan K. Idema.
He is Former Green Beret Sgt. Jonathan Keith Idema, who was known only as "Jack" in Afghanistan. For more details of his extensive background go here.
To Idema, the allied strategy of 'hunkering down' guaranteed defeat against the cunning and nimble Taliban and Al Qaeda. "That's why Alexander lost, that's why the British lost…and we're going to lose too," Idema said at the time. "You can't beat these guys with (conventional forces) and armored tanks. We can only beat them by CIA and Special Forces riding around on…camels and horses, wearing their clothes, eating their…food and hunting (them)."
That, Idema said, was precisely what he and Task Force Saber 7 did.
Please go to Cao's Blog to get a very complete and detailed history of what has been happening to Jack Idema. Of how he and his men were put in prison. You will learn how Jack and his men Task Force Saber 7 were declared innocent of all charges , YEP that was March of 2005 . THIS YEAR and they are still in prison! Read why, it is an amazing and almost hard to believe story except that it is all true! It is NOT a movie that is done in 2 or 3 hours. It is real, it is terrifying and it has to do with men that lived in danger to fight terrorism so that it would not come on our shores again here in the United States of America.
Wild Thing comment……..
Our enemy and the enemy that Israel has had for over 50 years are one and the same. They follow the Quran, worship death including their own and send their own children off to be suicide bombers. They are all are ALL members of the Muslim Brotherhood !
"Allah is our objective. The Prophet is our leader. Qur'an is our law. Jihad is our way. Dying in the way of Allah is our highest hope." Motto of the Muslim Brotherhood.
Never forget the things said and why it was so important to have men like Jack and Task Force Saber 7 out there for us, for America.
"Carrying out terrorism…is one of the tenets of our religion and Shari'ah…This war is fundamentally religious…Under no circumstances should we forget this enmity between us and the infidels. For the enmity is based on creed." – Osama Bin Laden
"We do not differentiate between those dressed in military uniforms and civilians; they are all targets in this fatwah." – Osama Bin Laden
Osama Bin Laden's lieutenant Ayman al-Zawahri has said….""What you have seen, O Americans, in New York and Washington and the losses you are having in Afghanistan and Iraq, in spite of all the media blackout, are only the losses of the initial clashes. If you continue the same policy of aggression against Muslims, God willing, you will see the horror that will make you forget what you had seen in Vietnam."
I read everything I could find to teach myself about Islam, sought out articles and books on how terrorists work and their cells, so many things. That is why I am so shocked when I hear someone, anyone, a civilian, a Politician, anyone in our Government say that Islam is a Religion of Peace and Love. For anyone to use those words referring to Islam is not only lying to the world, but they are also lying to themselves. By saying such things they shred my confidence in them as to their mental state and intelligence. If it is meant to kiss up to the Nation of Islam, to the Muslims living here in America, Iraq, Iran, Afghanistan etc. it does not work. It does not change followers of Islam's hate toward infidels and it most certainly angers the hell out of me I can tell you.
Now look every man in my family has served this country. They represent every branch and a few of them were in situations my family could not know where they were, what they were doing, and what mission they were on. You have seen movies of Military operations that no one is supposed to know about and then what happens….the governmdent says I never knew you. It is a deal made in hell for our service men. But they do it and they damn well do it well! Jack took the risks, he and his fellow men. Risks of great danger and he is innocent of charges made against him. Even the court said so, so I want the back slapping politicians, and our Governemnt to stop the BS about this and take care of business not leaving anyone behind, not turning their backs on those fighting terrorism.
To men like Jack and our Military Duty , Honor, Country DO mean something and we need to show them that we know what it means too. How often have any of us said, I know I thknk it every day……My Freedom came at the highest cost of all and I can never repay it . But we can at least try and that means writing letters, making phone calls and doing what we can to get the truth out about men like Jack Idema and Task Force Saber 7…….because they are Heroes! I have met thousands of men and women in the Military over the years and one thing that stands out is that the Oath they took did not stop when they got out of the service. For them it continues even today. So our support should continue as well……never ending, never wavering.