Ronald Leslie Bond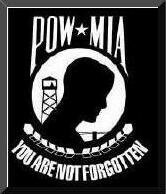 Name: Ronald Leslie Bond
Rank/Branch: 03/US Air Force
Unit: 390th Tactical Fighter Squadron, Da Nang, South Vietnam
Date of Birth: 14 December 1947
Home City of Record: Haddonfield CT
Date of Loss: 30 September 1971
Country of Loss: Laos
Loss Coordinates: 160500N 1063300E (XD619099)
Status (In 1973): Missing In Action
Category: 4
Acft/Vehicle/Ground: F4E
Other Personnel in Incident:
Michael L. Donovan (missing)
Source:
Compiled by Homecoming II Project 31 April 1990 from
one or more of the following: raw data from
U.S. Government agency sources, correspondence with
POW/MIA families, published sources, interviews.
REMARKS:
SYNOPSIS:
Michael L. Donovan was born November 9, 1944
in Huntington Park, California. His family later moved
to Norton, Kansas, where he graduated from Norton
Community High School in 1962. He was married before
entering Fort Hays State College where he graduated
in 1966 with a degree in Agriculture.
In the summer of 1966, Mike entered the Air Force and
was commissioned as a Second Lieutenant. He received
training in Texas and Florida and in 1968 became a pilot
of the F-4 Phantom jet. Mike was promoted to Captain
while serving an overseas tour in Japan.
In January, 1971, Mike left for his last assignment in
South Vietnam, and was stationed at Da Nang Airfield
with the 421st Tactical Fighter Squadron.
Ronald L. Bond was born in Camden, New Jersey on
December 14, 1947. He grew up in Haddonfield, New Jersey.
At the age of 12, Ron was on the Haddonfield Little League
team that went to the New Jersey finals.
In that same year he was Middle Atlantic AAU, 12 and
under Diving Champion and a tri-county swimming and
diving champion. In his high school years at Haddonfield
Memorial High School, he was wrestling champion in his
weight class. When Ron graduated from high school in 1965,
he was accepted at the University of Delaware, but was also
granted an appointment to the Air Force Academy, which he accepted.
His first assignment after graduating from the Academy in 1969
was navigator school, then training to be "Guy in Back" in the
F4 fighter bomber, then an unexpected (and unwanted)
assignment to South Korea. Ron did everything he could think
of to get a Vietnam assignment, and the orders to go to Vietnam
came while he was home just prior to leaving for Korea.
With his heavy clothes on their way to Korea and his lighter clothes
shipped home to Haddonfield, he left for Da Nang,
South Vietnam, arriving there February 6, 1971.
Ron was home again in July, 1971. He was on R & R,
but had come home to be fitted with contact lenses so
that he could become a pilot. Shortly after his return to
Da Nang, Ron began flying Forward Air Controller
reconnaissance missions. He was attached to the
390th Tactical Fighter Squadron.
On September 30, 1971, Donovan and Bond teamed
up on an operational mission over Laos. On the mission,
Donovan was the pilot and Bond the "Guy in Back" (navigator).
The pair were on the last leg of their mission having mated up
twice with a KC135 (for fuel). The aircraft failed to return on
schedule to Da Nang, and after an extensive search, the
two men were declared Missing In Action.
Bond and Donovan are two of the nearly 600 men missing
in action over Laos. The poorly-negotiated Paris Peace
Agreement ending American involvement in Southeast Asia
did not address the prisoners of war and missing held in Laos,
and no subsequent negotiations ever held to secure their freedom.
As a result, even though the Pathet Lao stated publicly that they
held "tens of tens" of American prisoners, not one man held
in Laos was released.
Ronald Bond's parents moved to California about a
year after his disappearance and remain active in their
search for information about their son. They feel there
is a possibility their son could be alive and a prisoner.
They believe some, perhaps many, Americans are still
alive and held prisoner in Southeast Asia. They will not
rest until these men are returned and they know the fate of their son.
In late 1998, Errol Bond was still attempting to get
documents on his sons fate. The incidents' "CHECO"
report was to remain classified until 2003 he was told.
Fingerprints had long since been destroyed from files -
although footprints had been saved
("the boots are the last to burn...." he was told).
Classmates of his son help keep the memories alive.
Questions remain, answers are still sought -
peace within, is still elusive.
             Los Angeles Times   July 31,1991
                     By Karen Tumulty and Dan Weikel
MIA: Distrustful Families Keeping Alive 
the Issue of Missing Americans.
Prisoners of Not Knowing
The issue of MIAs and POWs in Southeast Asia 
has been called a top priorities.But frustrated 
families of the missing all of government errors
and misrepresentations.....

When records have been declassified, 
families have often been horrified by
what they discovered. Errol and 
Madeline Bond of Fullerton, Calif, twice
traveled to the military's Joint Casualty 
Resolution Center in Hawaii to review what 
they believed were all the records relating 
to the 1971 disappearance of their son, 
Air Force Capt. Ronald L. Bond, a
bombardier-navigator.
That file contained little more than the 
date on which Bond was shot down, his 
personnel records and other routine papers.  
Yet when further information was declassified 
later, his parents learned there was much that
they had not seen -- including evidence that 
beeper signals and coded messages picked up by 
search and rescue planes near the crash site of their
son's F-4E Phantom showed that he had bailed out successfully.
That same record indicated that an investigation 
was under way, but the Bonds have never seen the 
results.  "Nice of them to declassify a letter
they said they never had," Errol Bond said.  
"We have not received anything
since, but our son has not been proven dead."
Virtually all the missing were declared 
presumed dead in the late 1970s, as part 
of President Jimmy Carter's effort to 
normalize relations with Vietnam.  
President Ronald Reagan disagreed with that policy 
and sought to raise the issue's public profile again.  
The Reagan Administration declassified many Pentagon 
files and called attention to "discrepancy cases" in 
which Vietnam had not accounted for servicemen known 
to have been captured......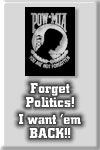 Just Click on the Dog Tags to go to my Welcome Page
then follow the Dog Tags to my Menu Page....
the Dog Tags lead the way