Children of the Fur
I love animals
and have always had dogs and cats.
As a child we always had
horses among the other menagerie as well.
Animals have always been a big part
of our family, a very important
part to each one of us.
I am sharing photos here of
our puppy Sebastian and our kitty Missy.
The photos of my teddy bears
are a collection I finally had to
stop doing a few years ago.
LOL After all, I do need some furniture
for humans to sit on too.
It's funny how dogs and cats
know the inside of folks better
than other folks do, isn't it?
- - - Eleanor H. Porter "Pollyanna" 1912
This is Sebastian.......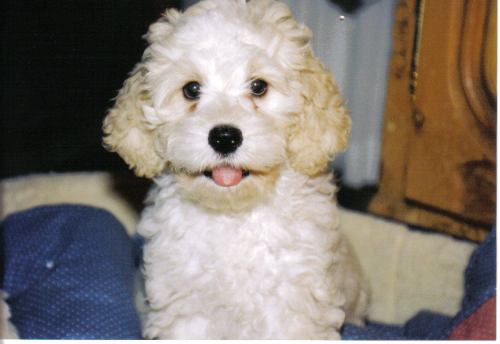 Sebastian is a Cockapoo and he is
4 months old in this picture.
A very talented poet and friend
of mine wrote this poem for
Sebastian.
Sebastian
Super little pooch as cute as the Dickens,
Eloquent speaker for defending his home,
Best friend for Chrissie,
and her little heartthrob,
A little friend who doesn't do algebra,
Simple cuddler who fits well in laps or arms,
Tempestuous mischief-making acrobat,
Ineffable cuteness: a fait accompli,
Advocate of hidden bones and toys, aha!
Never underestimate this Sebastian.

Copyright © 2004 by AKA Wordsmith. All rights reserved.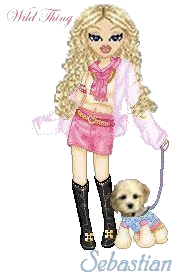 You want a friend in Washington?
Get a dog.
- - - Harry S Truman

If you think dogs can't count,
try putting three dog biscuits in your pocket
and then giving Fido only two of them.
--Phil Pastoret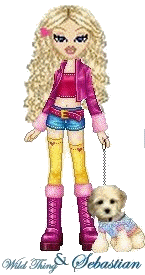 "No one appreciates the very special genius
of your conversation as the dog does."
-- Christopher Morley
And I would also like you to meet Missy.......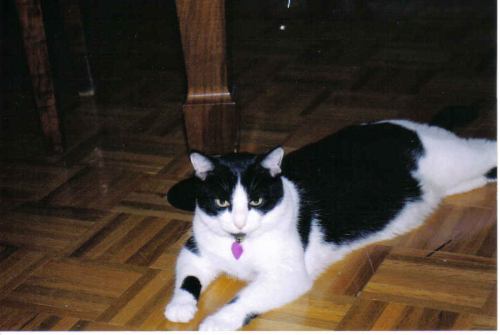 Missy is very dear to me and behaves
a lot like a dog much of the time.
She will run to the door and greet me
each time I get home from work.
She is helping to raise Sebastian the puppy too.
She will put one of her paws on his forehead
and then wash his face like a mother cat.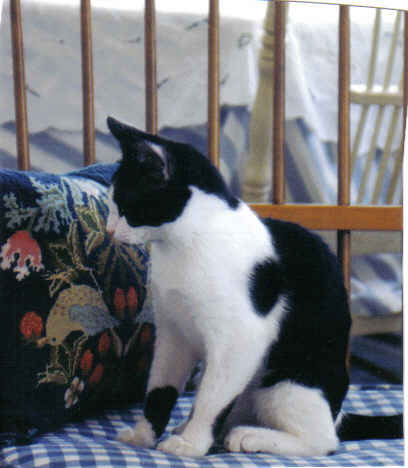 "In ancient times cats were worshipped as gods,
they have never forgotten this."
–Unknown
"Time spent with cats is never wasted."
– Colette
"Cat's motto: No matter what you've done wrong,
always try to make it look like the dog did it."
– Unknown

And these are some of my Teddy bear collection
A Carol Black Bearhearts Original,
created on October 5, 1992 in California ,
Stormin' Norman is named after
General Norman Schwartzkopf
and is authentically dressed from his
desert fatigues right down to his helmet,
two watches, official ID's, his backpack,
rations and American flag.
He is stuffed with desert sand!
A Collector's Bear
I'm a very special Collector's bear..
So handle me with extra care!
I need someone who knows to treasure
me more than money can ever measure..
Someone who's learned that life is love
Someone who watches stars above!
A person who stops to smell the flowers..
A person who walks in April showers.
For I have so much love to share
that I'll go with you anywhere!
Please meet Rusty..
There is something about this bear.......
This is a TRUE story and the bear
was hand made by the wife of Russell....
When he was fluffy and new, he was given to a human
named Russell as a gag birthday gift. Rusty ( Russell),
as his friends called him was leaving home for his first time
and joining the Marines. The bear began as a joke, but when
Rusty ( Russell) was deployed he took the bear with him.
The Privates in Company B decided to have the bear as
their mascot.
Well, he was always there celebrating the triumphs and
helping to comfort the defeats with the rest of them.
The Bear would wait patiently in the barracks, hour by hour
day by day until the men would return. Then his best friend
would have a smile for him, scratch an ear or two and pick
up his harmonica and play it. The nights were much better
then the days.....for both of them.
Then one night, the bear's friend did not come back, and the
barracks were painfully silent. The only things left on the
cot where the bear sat included a blanket, a scarf, some
old fatigues and the harmonica.
The guys in Company B got ONE Rusty back home
safely, but life just wasn't the same. So now Rusty is a free
Spirit, roaming about with memories for his
treasure, a harmonica for his enjoyment and a teddy
in his pocket for a friend,
because a Teddy bear's love never dies.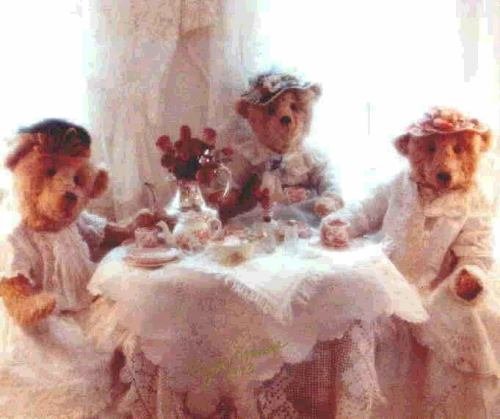 Friends and family can not always be near,
that's why I'm sending this teddy bear.
Hold him, love him and hug him tight,
And he will be there day and night.
He can not replace the love you hold dear,
But he's a reminder that their love's always there.
There is one thing more that he likes to do,
That's to remind you, that God loves you too.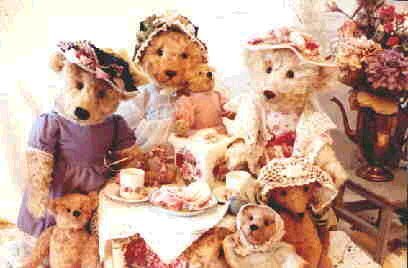 Please click on Dog Tags to be taken to my Menu page